Cannoli King strives to be the best authentic Italian Bakery in Vancouver
Since 1985, Cannoli King Vancouver has been locally handcrafting Sicilian cannoli and artisan Italian baking for over 35 years. We make everything from scratch, from our doughs, fillings, sponges and custards right here at Italia Bakery Vancouver. We cut, handroll and deep-fry our cannoli shells in house, and fresh fill them to order while you wait at Vancouver's one and only cannoli bar.
Sam Pero started working at his family bakery, Fortuna Bakery, at the age of 8. He helped his father Francesco, starting early mornings at 4 am. Sam left the baking industry to pursue a different career. Fifteen years later, in September of 2001 he returned back to his roots in the family business as a baker in Port Moody's very own Casa Del Pane. This is where he learned & refined his skills along side his father and brother Paolo.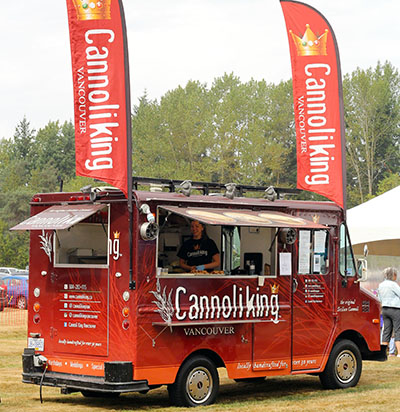 In 2013 the Cannoli King Vancouver food truck was born. We wanted to go out into the community and bring Sicilian culture and what better way to do this than through a food truck. You will find "PIPER"-Cannoli King Vancouver at various markets, Italian Days, P.N.E, Italian Cultural Center, and many more. Follow our social media for exact locations. Our cannoli are also available 7 days a week at Italia Bakery Vancouver, located at #104-2828 East Hastings, Vancouver, BC.
NEWSLETTER
Enter your email address to subscribe our newsletter.